Check out our special deals page for great news on a new shelter size available for smaller families and our new Tornado Shelters Safe Rooms Panic Room Financing!
We are the manufacturer and Distibutor for MightySAFE, an above ground tornado shelter and safe room that can also be configured for storage of guns or other valuables. It may even be used as a panic room against home intruders. Available for installation in existing homes and new construction, our shelter is designed to be used either in an attached garage or under roof. The MightySAFE can be configured for installation outside the home by changing the air vent locations and construction of a concrete pad for anchoring the unit. MightySAFE saferooms have been extensively tested by the Wind Engineering Research Center at Texas Tech University and is designed and constructed in accordance to FEMA publication 320, Taking Shelter From the Storm:Building a Safe Room in Your House.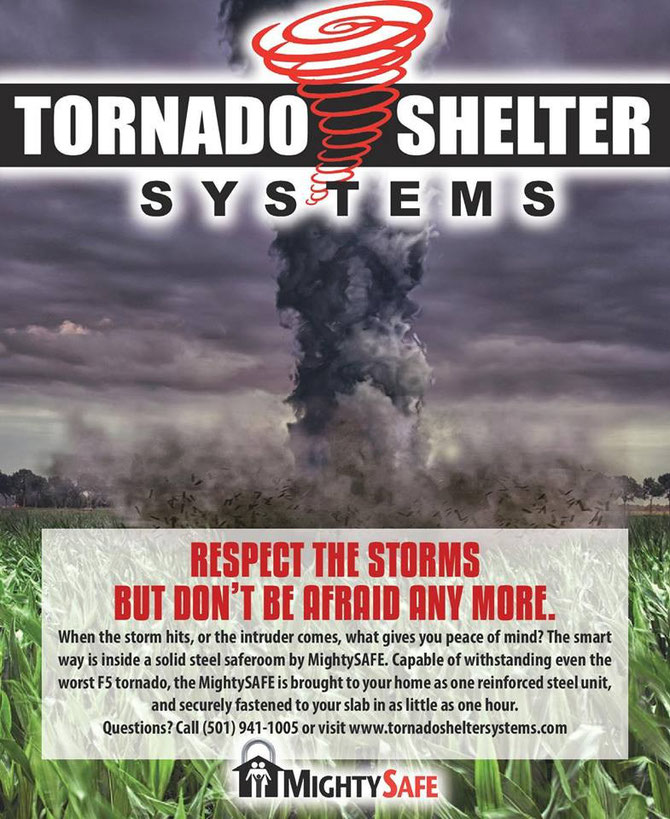 ---
TSS is a full service dealer, offering sales and installation by trained HILTI installers. Installation in normal situations, is less than one day.
Arkansas is in TORNADO ALLEY. Let us help you protect your family from severe weather and home intrusion.
Click here to see the products we use to anchor your shelter.